10 Coastal Prefabs that Bring Modular Housing to the Beach
Original Article by: Dwell
When an efficient prefab can become a coastal retreat with a spectacular view to boot—it makes a very compelling case for not being landlocked.
Here, we've gathered a variety of prefabs set in diverse locations around the world, providing you a little inspiration if you're currently plotting a feasible way to build a beach house of your very own.
1. New Zealand Coastal Prefab Home
Location – Waiheke Island, New Zealand
Image: Cora House | By Atelier Workshop Architects
Located on the northern edge of Waiheke Island, approximately 800 feet from the nearest road, The Cora House sits atop a thicketed cliff that falls sharply into Hekerua Bayhe below. The prefab home's configuration maximizes views, while its siting limits environmental impact. Bonnifait + Giesen Atelierworkshop, the firm that designed the structure, was even able to retain the mature trees on the property.
Image: Cora House | By Atelier Workshop Architects
2. Onemana Prefab
Location – Onemana Beach, North Island, New Zealand
Image: Onemana House | By Dave Strachan & Students of Unitec
Also located in New Zealand, this compact prefab vacation home in the seaside community of Onemana Beach was a collaboration with Architecture students from Auckland's Unitec Institute of Technology.
Every summer for over a decade, Andrew and Shiree Morrison have journeyed to Onemana, a coastal town on New Zealand's North Island. They used to stay in a small trailer, often fantasizing about building a house on their sloping plot of land but always coming up short on the amount of money needed to get a project underway. So their longtime friend, builder John Cocks, suggested an unconventional solution to obtaining a custom home within their budget: collaborating with architecture students.
Image: Onemana House | By Dave Strachan & Students of Unitec
3. Casa Remota
Location – Pichicuy, Chile
Image: Casa Remota | By Felipe Assadi
Casa Remota is a design prototype for a transportable, modular dwelling. The 861 square-foot home can be constructed in 45 days, transferred to its location in four hours, and installed in only six more. Erected near the Chilean city of Valparaíso, the two-bedroom, two-bathroom home has floor-to-ceiling windows to enjoy views of the region's dramatic coastline.
Images: Casa Remota | By Felipe Assadi
4. Merricks Beach Prefab
Location – Merricks Beach, Australia
Image: Somerset House | By Anna Horne
When Australian architect Anna Horne designed a beach house consisting of three modules for her family, she had the prefab constructed in a factory outside Melbourne. Then, the house was transported down to the sleepy beach town of Merricks. Horne created a series of prefab wood modules using a design from the company Prebuilt. She found the old red industrial letter at a factory. It stands for Somerset, the name of the house.
5. Dramatic Cliffside Prefab
Location – Avalon Beach, Australia
This prefab house designed by ArchiBlox on the northern beaches of Sydney has to stand up to high winds and spray from the surf. To ensure this wouldn't be a problem, Archiblox wrapped the exterior in marine-grade Colorbond Ultra steel. Panels of Queensland blue gum, a native Australian hardwood, covers the street-side facade, which is protected from the harsh climate.
6. 20-Module Prefab in Western Canada
Location – British Columbia, Canada
Image: Tofino House | By AA Robins Architects
This enormous modular home by Tony Robins of Vancouver-based AA Robins Architect was built in partnership with a prefabrication factory. Two-foot-wide steel beams were enlisted to support the 20-module home. The primary building's wings frame Pacific Ocean views and wrap a private courtyard with an infinity-edge pool. Five bedrooms disperse in a U-shape along a corridor that's punctuated by low, horizontal windows facing the courtyard.
Image: Tofino House | By AA Robins Architects
7. Block Island A-Frame
Location – New Shoreham, Rhode Island
Images: Risom Residence | By Jens Risom
The A-frame prefab family retreat of the late iconic designer Jens Risom is located on the northern portion of Block island. It's bordered by a low stone wall, an aesthetic element that appears throughout the land.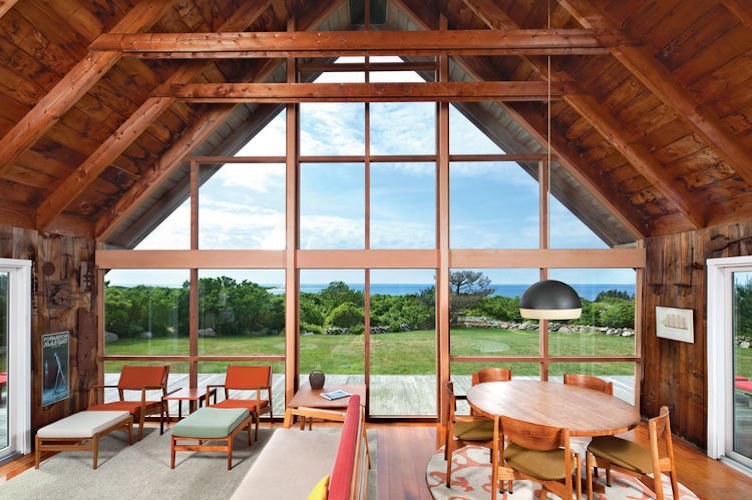 Image: Risom Residence | By Jens Risom
8. Montauk Prefab
Location – Montauk, New York
Image: Montauk House | By Bates Masi + Architects
Green features such as a prefabricated foundation and a geothermal heating and cooling system are buried below the ground. Nontoxic finishes and passive systems inside the home add to its sustainable credentials and helped keep the project on budget. The result is an elegant beach house that's perfectly in tune with its environment. Here, the homeowners relax by the pool on modular furniture from Richard Schultz's Swell Seating Collection and chaise lounges from his 1966 collection for Knoll.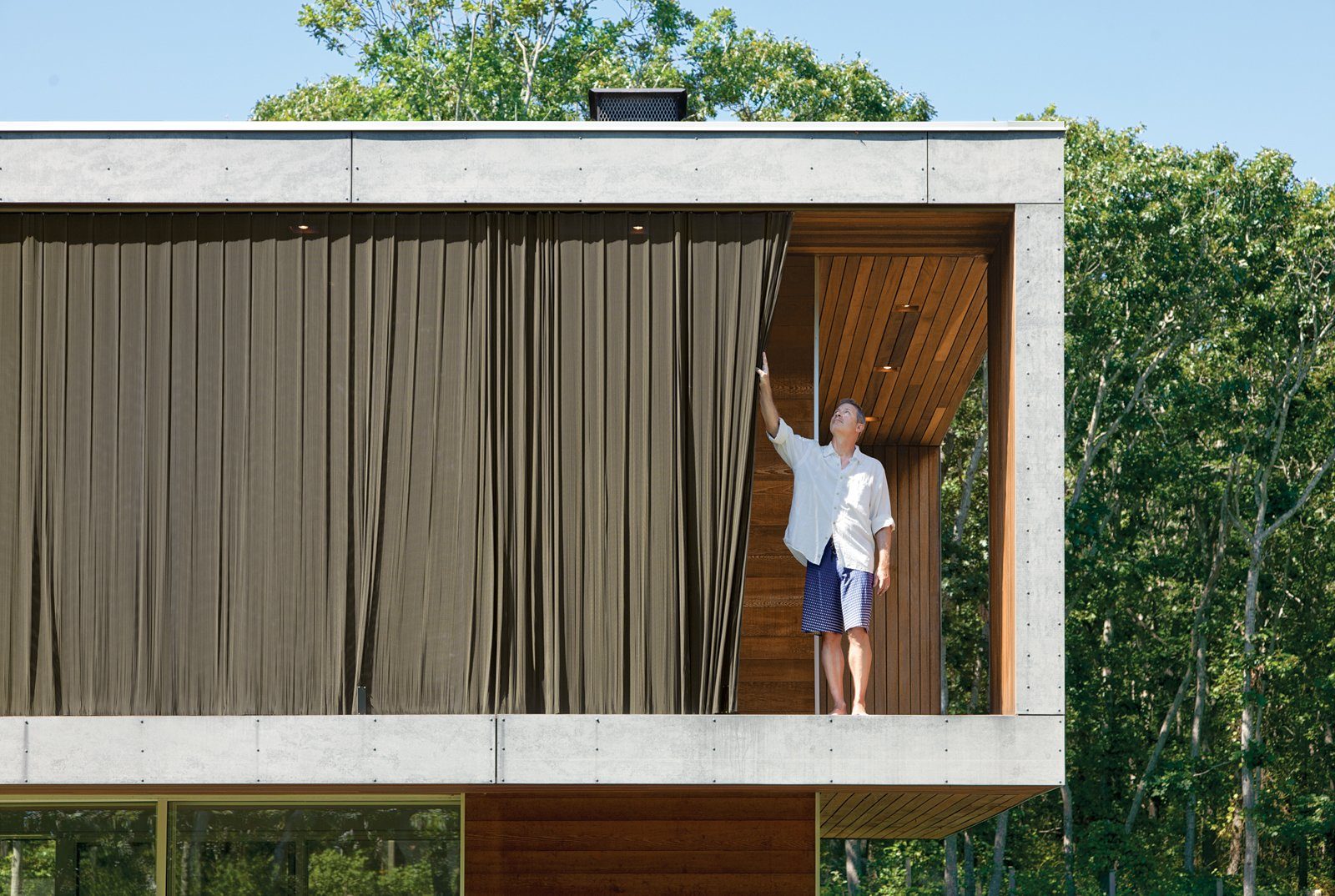 Image: Montauk House | By Bates Masi + Architects
9. Remote Island Prefab
Location – Fishers Island, New York
Image: Fishers Island House | By Resolution: 4 Architecture
This modular system created by the architects at Resolution: 4 allows them to customize a home's floor plan by stacking, lining up, and joining factory-built, rectangular modules. This is the largest prefab house the firm has completed to date with eight modules amassing around 4,500 square feet.
Image: Fishers Island House | By Resolution: 4 Architecture
10. Hurricane-Proof Prefab
Location – Miami, Florida
Image: Hurricane Proof House | By Cubicco
This 685-square-foot prefab shelter by Dutch firm Cubicco was built to withstand Category 5 hurricanes, extreme heat and cold, 10-foot snow loads, and earthquakes. Cubicco's prefab houses are built with laminated veneer lumber, an engineered material that uses up to 90 percent of a tree—compared to typical wood timbers that use only 60 to 70 percent. Modules can be disassembled if the owners relocate.
For more information on our Coastal Home Solutions < < please click here to get in touch, we'd love to hear from you.
We love sharing all the new and exciting things happening at Archiblox, so make sure you're following us on Instagram, Facebook and
Twitter, or signed up to our monthly newsletter, to ensure you don't miss a thing.