10 Most Popular Architectural Projects of 2019
We take a look at some of our most liked architectural projects of the year 2019, nominated by you our loyal 'Bloxers'. This list includes inspiration from around the world, homegrown Australian talent and our very own Archiblox designs.
What a year it has been in the architectural & building worlds. We have seen an increase in modular construction worldwide, more movement in using CLT building techniques in the commercial spaces, along with a rise in people wanting smaller, healthier, more sustainable, energy-efficient homes that connect well to the outdoors – due mostly to rising costs of living, wellbeing and the impact of climate change.
Aesthetics wise, externally dark, linear, single-level forms are popular. Internally, people want light, bright spaces with warm timber elements, raw uncoated fixtures, textural features such as terrazzo or concrete and neutrals colours with pops of brighter shades.
Home inclusions such as; study nooks, butler pantries,  mudrooms, window seats & built-in flexible joinery spaces are also high on the list of must-haves.
Have an architectural project in mind?
Fish Creek House
Architecture & Construction by Archiblox

It was no surprise that this holiday retreat located just outside of Victorias Wilsons Promontory was high on the list. It has been featured in various publications locally & internationally and was a finalist in the Dulux Colour Awards 2019.
This eco-luxe abode consists of 3 bedrooms, open plan living/dining & bathroom + powder room. The floor-plan design of this home is based on the creation of two separate wings to create a living zone and sleeping zone. These zones are joined through the entry space which functions as an airlock between the spaces to ensure efficient use of the heating and cooling systems within the home.
Peconic House
Architecture by Mapos

This popular multi-generational family Hamptons retreat overlooking the Peconic Bay, in the U.S was a hot favourite, with it's linear design and sustainable features such as the large green roof.
Images: Peconic House | By Michael Moran
Alpine Terrace House
Architecture by Fearon Hay Architects

This simply chic home hovers lightly over the landscape with its cantilevered black box design. This beautiful dwelling nestles in the Southern Lakes alpine region of New Zealand, and purpose is all about capturing the incredible views of the mountain ranges that surround the site.
Images: Alpine Terrace House | By Simon C Wilson
Sunday Smart Range
Architecture & Construction by Archiblox
Part of the Archiblox 'Smart Range' this design is a client favourite. The 'Sunday' is easily broken up into separate living and bedroom wings, with a layout that is flexible enough to work across a range of sites whilst maximising solar gain & cross-flow ventilation. The central connection has the ability to act as an airlock between the two modules, reducing heat loss or gain as you enter the front door and encourages efficient use of heating and cooling systems. This home provides generous space for carefree living, making it well suited to urban, country or beach properties.
Minimod
Architecture & Construction by Mapa

This flexible prefab design is a primitive retreat with a contemporary reinterpretation, which is more than an object. It aims to become an every-remote-landscape experience. Minimod presents an alternative to traditional construction – basing their concept on prefab plug&play logic. It combines industrialized products`efficiency and new technologies` sustainability with the sensitivity of the natural materials in order to produce excellence.
Images: Minimod | By @leonardofinotti
Sonoma Connect 5
Architecture & Construction by Connect Homes

A modern home for an aging parent, this is a restful space located on a hilltop in California. With cedar timber cladding and sliding floor-to-ceiling windows, the home invites the surrounding nature into its space, the design both reflecting and sharply contrasting with its environment.
Images: Sonoma Connect 5 | by Joe Fletcher
Point Lonsdale House II
Architecture & Construction by Archiblox
Featured as one of our 'Project of the Month' and based on our set design 'Marlo' the install of this home mid-year and it got a great response from our audiences. This home was created for a young family looking for a sea change. To maximise the quality of life, beautiful outdoor surrounds and an active lifestyle.
Installed on footings, elevating the home from street level, this house sits proudly in place. The master bedroom fronts the street and is the commanding feature with the shrouded window with timber cladding. These generous windows are protected from the harsh summer sun, thanks to the architectural covers, but are accurately positioned throughout the home, to provide ample daylight & view pockets from every room.
Karkalla Dunes
Architecture by Max Pritchard Gunner Architects
This pavilion style home is a living breathing structure, split between 2 sections on separate sand dunes linked by a floating walkway. This beautiful house is an extraordinary example of how to design for our landscape.
Image: Karkalla Dunes House | By Peter Barnes
Axel Smart Range
Architecture & Construction by Archiblox
Another very popular floor plan from our 'Smart Range' this 'T' shape home is a perfect balancing act. The 'Axels' considered energy-efficient footprint consists of two interconnecting modules to create "the knuckle" a joining interface that becomes the formal entrance between the private and communal zones.
The generous open plan kitchen with central island bench/living area welcomes an abundance of natural light and provides a beautiful space to connect over meals and feel safe knowing you can keep an eye on the kids playing outside.
Click to View More of This Design
Scrubby Bay House
Architecture & Construction by Patterson Associates
Beautiful in it's simplicity the Scrubby House captures the true essence of its stunning environment on New Zealands South Island – Banks Peninsula. This holiday home is also a working farm – accessible via helicopter or a 40-minute 4×4 ride overtop clifftop farm tracks.  An amazing location and dwelling to match, it offers visitors a remote slice of paradise on the rugged shores of this amazing coastal farmland.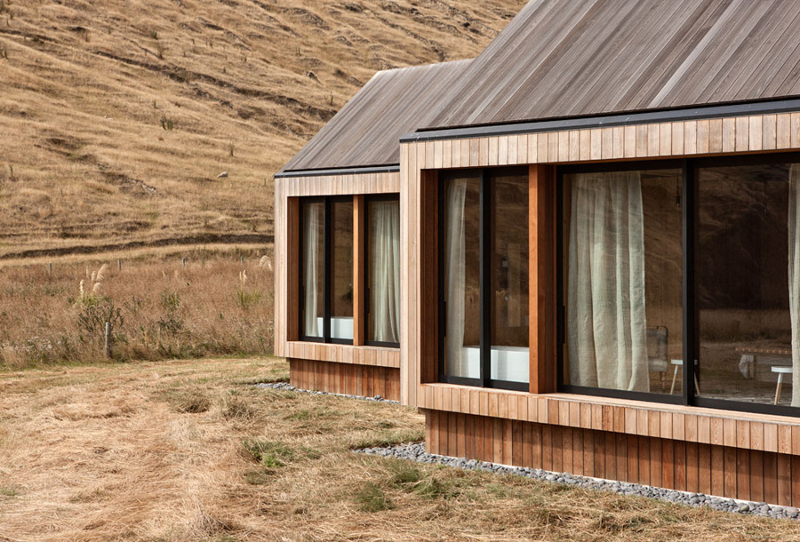 Images: Scrubby Bay House | By Simon Devitt
Got an architectural home in mind? Talk to us today to