A New School of Thought - Classrooms Made Modular
Think prefabrication is just for homes? Think again. Modular construction lends itself to far greater applications than just residential houses, it's perfect for commercial projects such as our recently completed East Gippsland Trade Skills School Project with Hayball Architects and McCorkell Constructions.
Modular constructed buildings can be completed up to 30-50 percent faster than regular stick builds. Leading to reduced costs and savings on construction timelines, which is a big advantage when completing any built project, but especially when they are for the educational & government sectors.
These buildings are constructed in a controlled off-site facility, therefore, waste is minimised or recycled and the exact material usage is accurately determined to ensure there is no excess. During the construction process the flexibility of these designs allow for easier alterations and changes during the build process, all thanks to the nature of their structures and the stringent supervised environment. On-site works & preparation can happen at the same time as the structures are being manufactured off-site, cutting down time significantly.
The accuracy, flexibility, quality and control of costs are important when it comes to any build and are far easier to manage through prefabricated methods. Meaning a more reliable product is produced within the defined parameters and on-site disruptions are kept to a minimum.
Prefabricated East Gippsland Schools
Archiblox was awarded the East Gippsland Trade Skills School Project in collaboration with Hayball Architects and McCorkell Constructions. Due to the remote locations of the schools, architects Hayball, decided to use modular methods to deliver the project.
Archiblox were asked to retrofit Hayballs original concept to suite prefrabricated techniques. We ensured the building design aligned with the usual parameters of an educational building, as well as all the modular construction parameters of Archiblox to construct and deliver 6 trade skills classrooms to various schools throughout East Gippsland.
The construction of the modular school pods occurred off site, within the Archiblox facility environment, thus ensuring a high quality was achieved and the program for construction controlled. Transport & Installation of the modular classrooms to site was then arranged by our specialised team, who coordinated the drops in the Gippsland towns of Bairnsdale, Mallacoota, Swift's Creek, Orbost, and Lakes Entrance. The flexibility of a prefab install allow for us to schedule the deliveries during school breaks, minimising disruption to students, staff and teaching programs.
McCorkell Constructions were the Head Contractor of this project. They provided excellent coordination between parties and were engaged to manage all on-site works including, demolition and site preparation, sub structure, in-ground services, ancillary structures and make good to existing structures once modules were placed into position.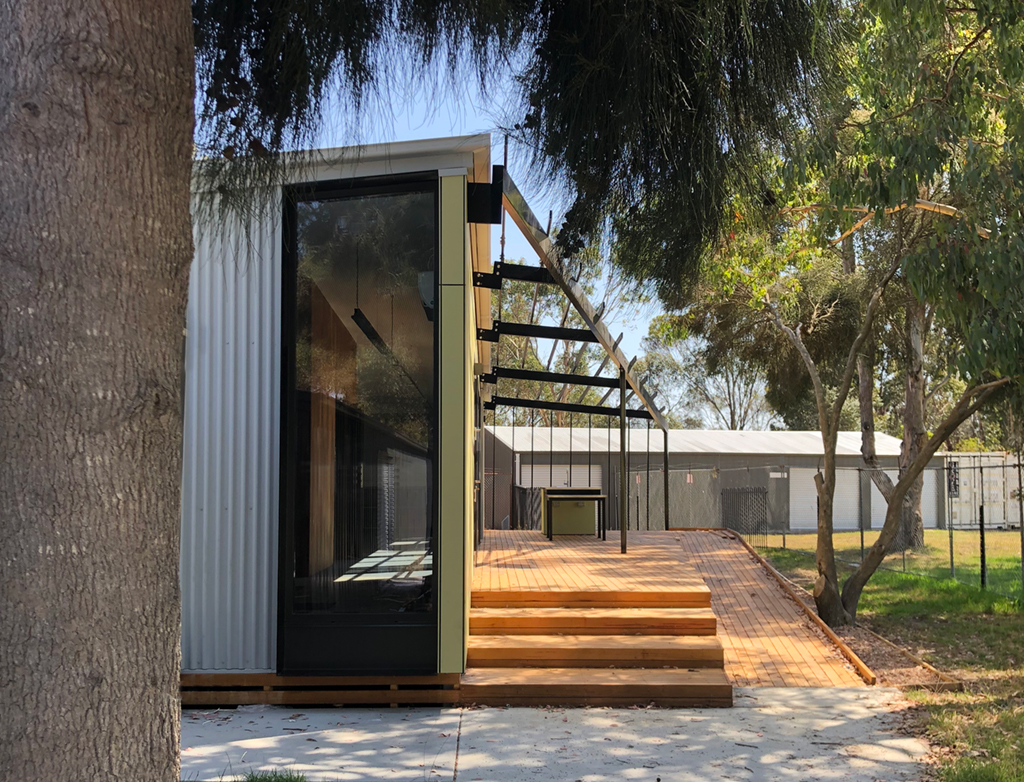 The teaching facilities each typically included bathrooms, kitchenettes, meetings rooms and classrooms with architectural details including; striking rooflines, internal ply, acoustic linings and external decks and pergolas.
These modular classrooms and early learning facilities are designed to create safe and stimulating educational environments that support the development of children in their early years, right through to University. Our modular education buildings also pride themselves on pushing the boundaries of traditional classroom design and encouraging collaboration and innovation.
The East Gippsland schools further integrated state-of-the-art technology into the fabric of the design and build, allowing the schools to tap into technical classes throughout the state via interactive audio-visual technology. These shared learning opportunities allow students to better prepare for the industries of the future.
For further inspiration, check out our Commercial Designs to get more ideas for your next project.
We love sharing all the new and exciting things happening at Archiblox, so make sure you're following us on Instagram, Facebook and Twitter, or signed up to our monthly newsletter, to ensure you don't miss a thing.