Image: Yarrangobilly Thermal Pool | By Dillon Seitchik Reardon
Beach vs Pool? The Best Places to Swim this Summer
It's the middle of summer, and it's hot. Some of the best places to cool down are our beautiful local or private pools & world-class beaches – so dive into this collection of our favourite swimming spots and pool ideas. 
Beach & pool culture is deeply rooted in our Australian communities – we swim from an early age and a large percentage of our population clings to the coast, with 4 out 5 people living within an easy walk or drive to the sea. So, where are the best places to swim in one of the world's driest continents on earth?
Image: Bushrangers Bay | By Places We Swim
Bushrangers Bay, Cape Schanck, VIC
Natural rock pools surrounded by volcanic basalt located on the beautiful Mornington Peninsula, Victoria. This swimming destination is perfect for visiting at low-tide on a hot summer day when a north-easterly wind is blowing. You can access this picture-perfect swimming spot via a 40-minute walk through coastal bushland on a well-defined path.
Image: Bushrangers Bay | By Places We Swim
Mermaid Pool, Southern Highlands, NSW
This natural pool that forms part of the Bargo River Gorge, consists of dark green water at the bottom of an amphitheater with dramatic, sheer rock walls. There is a 2km walk to the pool from the carpark at the north end of Charlies Point Rd, Bargo. Safe access to the water can be found at the far end of the pool. The water is quite deep and there is a rope to swing out on.
Image: Mermaids Pool | By Edward Hathway
Lightening Ridge Bore Bath, NSW
A giant circular spa, with water temperatures of 40 degrees, this swimming hole is free to enter and a refuge for the eccentric locals and weary travelers passing through this outback landscape. The mineralized pool has a combination of magnesium and lithium content which promises to heal ailments, from arthritis to sciatica.
To top it all off the town of Lightning Ridge is the birthplace of our Paul Hogan and is the black opal capital of Australia!
Image: Lightning Ridge | By Dillon Seitchik-Reardon
Little Waterloo Bay, Wilsons Promontory, VIC
A private beach escape on Victoria's southernmost point, Wilsons Promontory – this beautiful white sand cove is only accessible via foot or by boat. Surrounded by granite mountains and fern-filled gullies this multi-day backpack adventure offers great rewards and is an internationally renowned national park.
Check out our  Wilsons Promontory House < < here.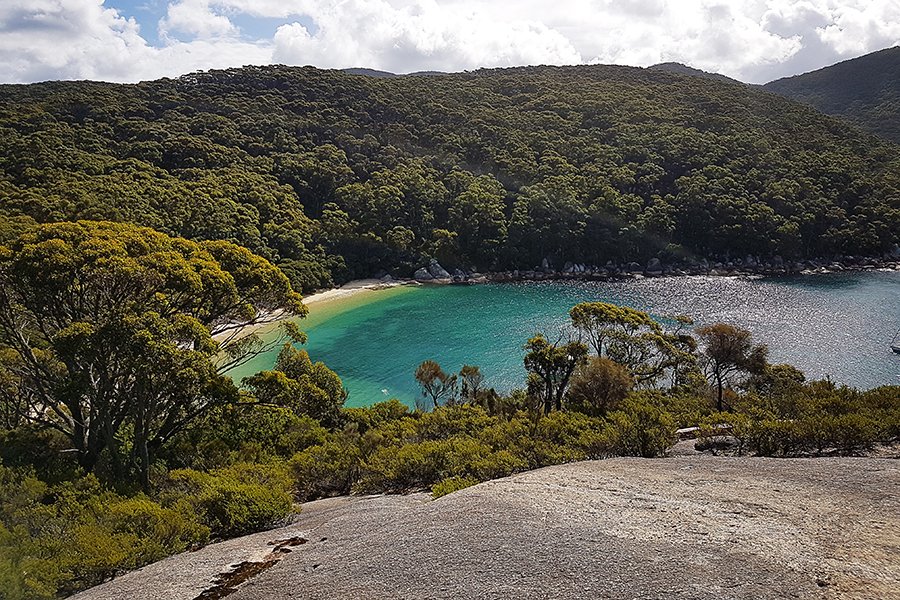 Images: Little Waterloo Bay – The Hiking Society & Places We Swim
Yarrangobilly Thermal Pools, NSW
This family-friendly, spring-fed thermal pool, is located in the heart of the Kosciuszko National Park. The mineralized water here remains a constant 27-degree temperature year-round, perfect for a quick dip after taking a walk on one of the tracks surrounding the area.  The main pool is 20 meters long and feds into the children's wading pool. Look out for some of the local animals, such as water dragons and platypus!
Image: Yarrangobilly Thermal Pool | By Dillon Seitchik Reardon
Turpin Falls, Near Kyneton, VIC
If you're further from the coast, try a rural, secret water hole instead. This billabong is located in the goldfields region in Victoria, 3o minutes from Trentham and is perfect for people who want a day trip in from Melbourne to explore this ruggedly beautiful spot. In the dryer months, this place is perfect for lazing about on floaties or check it out in the winter to take a private, rejuvenating icy plunge and see the waterfall in all its glory.
Images: Turpin Falls | By Places We Swim
Fitzroy Pool, VIC
Located in the heart of uber-cool Melbourne is the classic summer hot spot for swimming laps, people watching and taking a refreshing dip in style – the Fitzroy Public Pool.
This iconic urban billabong was saved from closure in the 90's thanks to a long fought protest by the community to keep it open. The misspelled 'Aqua Profonda' sign is now heritage listed, preserving this inner city water playground for future generations to enjoy.
Image: Fitzroy Pool | By Places We Swim
Private Pools
Haven't got the beach on your doorstep, patience for crowds, hate sand or drives in the hot car? Bring the sea home to you and get your own private watering hole. Adding the luxury of a pool to your home can really lift the outdoor space, giving another dimension to alfresco living zones and being close to a body of water brings good vibes all the way inside.
Try a cost-effective pre-cast rounded concrete plunge pool, a freeform shape or the more classical linear style – either way, these spaces will create lots of summer fun for family & friends.
For more check out;
Have a project in mind? We'd love to help.