Mr Kitly X Decor Self-Watering Plant Pots
These cute lightweight planters help to take care of your plants with their self-watering system; perfect for home, office or anywhere. Made locally in Melbourne from BPA free plastic, and available in three sizes, 170mm, 250mm, and 375mm.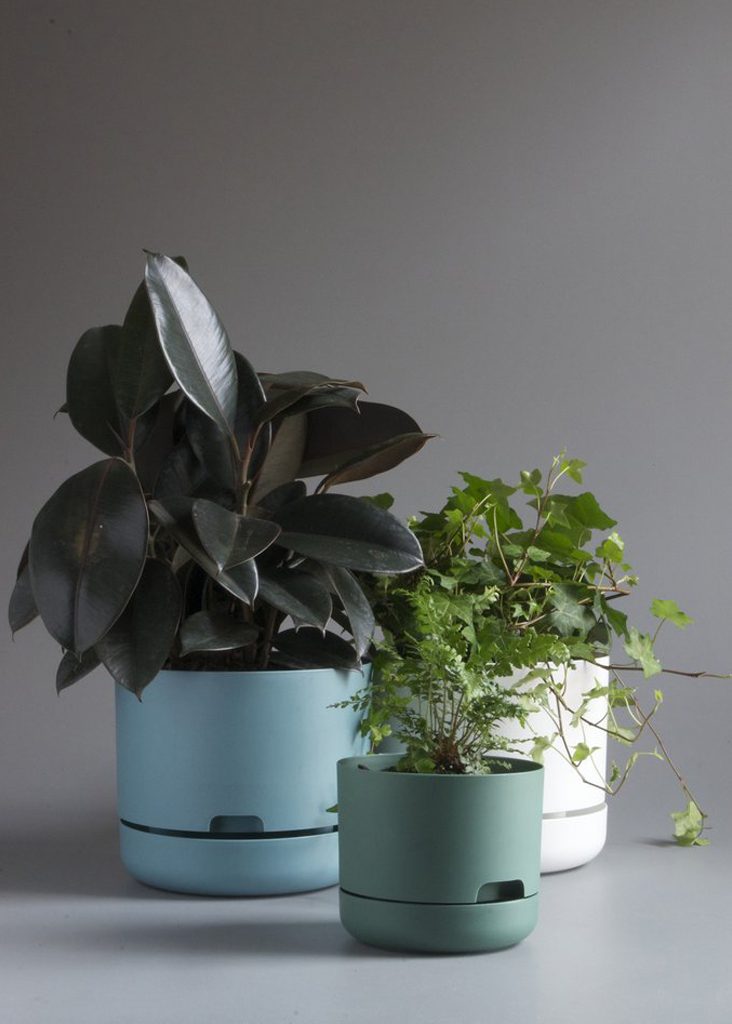 Plants from Ivy Muse
You're going to need a plant to fill that cute Mr Kitly pot, and Ivy Muse will have you covered for all sizes of plant life. The addition of greenery within the home will help to purify the indoor air and provide a sense of calm within your space; a refuge from the hustle and busy of busy everyday life.
Pop by the Ivy Muse store in Armadale or check out their website here.
Soma Water Purifier
Designed to look stunning on your table and fit perfectly in your fridge. The pitcher holds 10-cups of crisp, refreshing filtered water and is made of shatterproof, BPA-free plastic and a sustainable white oak handle. Soma's filtration technology was designed by leading experts and is made of 60% renewable, plant-based materials. So, you can feel good about your water.
UASHMAMA Paper Wine Bag
What a gorgeous way to gift a bottle of wine this Christmas, without using single-use wrapping papers or gift bags. This paper bag washes like fabric, holding it's form, so it can be used over and over again, promoting sustainability. UASHMAMA washable paper not only looks cute, it is made using a cultivated fibre that does not contribute to deforestation, which we love!!
Memo Bottle
The memobottle premium slimline, reusable water bottle is designed to fit stylishly into handbags, backpacks, laptop bags and even within your pocket; designed to fit where other bottles don't. Its shape closely resembles the dimensions of a sheet of paper (available in A5 and A6 size) and is made from a durable BPA-free and cradle-to-cradle certified plastic.
Hutwoods Wood Wick Candles
Hutwoods candles are made from 100% natural soy wax and have eco-friendly wood wicks. Not only do they look stunning, these candles make a relaxing, soft crackling sound when they burn, reminiscent of a log fire, as well as offering a longer and cleaner burn.
Each of Hutwoods' luxury candles come with a layer of protective seeded herb paper. The seeds are provided in 4 different herbs; Basil, Oregano, Parsley and Thyme. Once you have finished burning your candle, simply place the seeded paper in potting soil and use the vessel to grow your own herb garden. It's the gift that keeps on giving!!
Bondi Wash Pamper Duo
Body Wash and Flame Tree Body Lotion in the Bondi Wash signature scent, Sydney Peppermint & Rosemary, is perfect for natural care of the skin during and after showering, leaving you with naturally soft skin and the gently lingering scent of the Australian bush.
All products are 99–100% plant-derived which are therefore gentle and non-toxic (derived from sugar and corn, both renewable) and suitable for people with allergies or skin sensitivity.
Pod & Parcel Minipresso Gift Pack
Pod & Parcel have tracked down the best of Melbournes roasted coffee beans and put them into 100% biodegradable pods, so you can enjoy your pod-coffee, guilt-free. They've also engineered the Minispresso, a pocket-sized Nespresso® machine that works with both their own pods and Nespresso pods, to prepare up to 45ml of espresso.
Hand-powered, pocket-sized and portable, this is the ultimate accessory for any coffee lover going backpacking, camping, flying, or on a road-trip.
Glowpear Urban Garden Planter
You'll never have to worry about forgetting to water your plants again with the Glowpear self-watering planter boxes. An iconic, contemporary design aesthetic and durable construction make these modern planters perfect for balconies, courtyards, decks and patios, while clever design features ensure they are ready for use on any surface, indoor or out. Specifically designed for growing a wide range of fruits, vegetables, herbs, and flowers in the urban environment, the integrated self-watering system ensures your plants thrive, regardless of your busy lifestyle.
Armadillo & Co Rug
Armadillo & Co pride themselves on their environmental practices and strive for their products and processes to leave as little impact on the earth as possible, while using a 'reuse, reduce and recycle' philosophy. Every rug is 100% handmade by their extended family of artisans using Fair Trade practices. Each purchase helps provide employment to the extended family of artisans, as well as education support to local schools in their villages and helps build brighter futures for children in underprivileged communities. Plus, the rugs come in many different, beautiful styles, to suit all homes.