Invert 2.0 Mini Living – Built By All
INVERT 2.0 MINI LIVING – BUILT BY ALL is the second collaboration between green magazine, MINI LIVING, the City of Melbourne and RMIT, in the form of an exhibition and talk series which will be presented in October 2018. This year the theme explores multi-residential design and development, a subject of increasing architectural focus in recent times and what it means to create a meaningful, sustainable living environment in the heart of Melbourne.
A selection of established and emerging Australian architects (us included) have been invited by green magazine to respond to a brief to reimagine a city block beside the Queen Victoria Market as a hypothetical urban village. This village will contain residential, community, commercial and green spaces. In a return to architectural tradition, the architects will create hand drawings of their vision for the site..
The second Australian-based MINI LIVING exhibition, will be held within the iconic 2014 MPavilion on the grounds of the Hellenic Museum in Melbourne's CBD.
Designed by Australia's Sean Godsell of Sean Godsell Architects, the pavilion features a steel structure with a glazed roof and fully automated outer skin. Godsell's MPavilion is a testament to the principles of enduring design which apply to architecture in all its forms.
How to re-imagine a city block in the heart of Melbourne as a hypothetical urban village.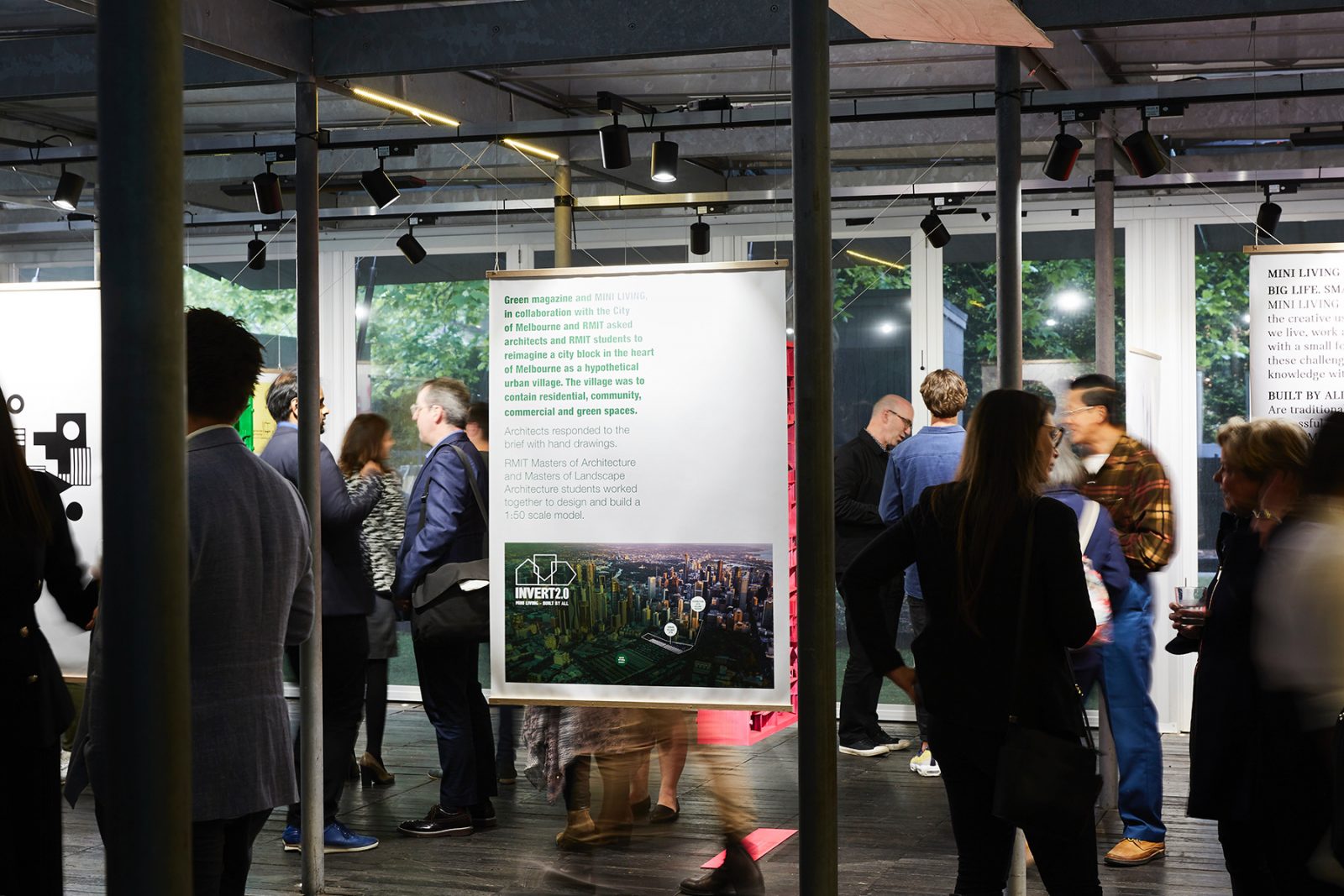 These drawings will be enlarged and dramatically displayed in an exhibition along with a 1:50 scale model designed by RMIT Masters of Architecture and Masters of Landscape Architecture students. The students will deliver a design for an urban village with consideration of urban density based on collaboration and research.
The model will harness the full capabilities of RMIT's 3D printing and laser-cutting technology and will include dissected pathways, which will invite visitors to walk both through and around it – physically interacting with the design.
INVERT 2.0 MINI LIVING – BUILT BY ALL is open from October 17 – 26 at a location nearby the site. A concurrent speaker series will be held in the exhibition space featuring leading voices from the design community. The exhibition site and speakers will be revealed at a later date.
RMIT's Exhibition (pretty inpressive)
Green magazine editor, Tamsin O'Neill is excited to have the opportunity to discover the potential of the high-profile site, one also earmarked for a future development of this kind. "Around the world, cities are grappling with issues of urban density and Melbourne is no exception. Tamsin looks forward to seeing creative solutions from both architects and students for a truly sustainable, community-focused urban village on this extraordinary site."
About MINI LIVING.
MINI LIVING is an initiative first launched by MINI in 2016 with the aim of devising creative architectural solutions for the urban lifestyles of the future. At this year's Salone del Mobile in Milan (17 – 22 April), MINI joined forces with London-based architects Studiomama to present MINI LIVING – BUILT BY ALL. This new installation reveals a visionary living concept brought to life in a close collaboration between residents and architects. A surface area of just a few square metres was used to create very personal and attractive spaces, reflecting MINI's core principle of the "creative use of space".
BUILT BY ALL was the third installation presented by MINI at Milan Design Week to highlight aspects of MINI LIVING. MINI LIVING had already exhibited visionary concepts for shared and collaborative living/working in our cities in Milan over recent years with its MINI LIVING – BREAT HE and MINI LIVING – Do Disturb installations. The first habitable MINI LIVING project will open its doors in Shanghai in 2019. Here, an innovative space-related concept for living and working is taking shape in converted industrial buildings on a surface area of just under 8000 square metres.
INVERT 2.0 MINI LIVING – BUILT BY ALL is the second MINI LIVING x green magazine installation to be presented in Melbourne. Last year, the inaugural installation focused on the importance of sustainable, small-scale architecture and was met with much success and interest from both the design community and the general public.
The Archiblox presentation. Monday 22 October, 6pm
Come and hear Archiblox speak Monday 22 October at 6pm along with Topology Studio, Ben Callery Architects, Chris Connell Design and RMIT Masters of Architecture and Masters of Landscape Design Students. So many great speakers
For Full list of presentations The list is pretty impressive Click Here
Field Design Studio Presentation. Tuesday 23 October, 6pm
TAKE A LOOK AT SOME OF THE MINI LIVING COL-LABS FROM AROUND THE WORLD
ADAPTING TO URBAN NEEDS. "COLLABORATIVE LIVING IS THE HEART AND SOUL OF MINI LIVING."
MINI LIVING answers with the Urban Nest installation for Urban Matters Shanghai in collaboration with Penda Architects.
The Urban Nest is designed as a spatial framework offering a flexible future of urban living based on a small personal footprint and a collaborative lifestyle. Imagine a building that can easily adapt its geometry to any urban void and turn it into an inhabitable place – that is where the design idea for the Urban Nest was born.
THE MINI LIVING URBAN CABINS ARE THE EPITOME OF THE MINI DESIGN CREDO "CREATIVE USE OF SPACE".
Our cabins create temporary homes around the world, from London via New York to Los Angeles and Beijing. They have one simple premise: each starts with the same, 15 m2 inhabitable footprint, which shapeshifts to reflect the city it travels to. The cabins are designed and built in partnership with a local architect, who brings love and a personal point of view on what makes a home in their city.
Beyond the respective themes that the Urban Cabins explore, the materials used in their construction will also give them distinct personalities. Where the core material of timber provides warmth and a sense of home to the interior, additional secondary materials are sourced locally. These materials give texture, colour and a style that only LA, Beijing, New York or London could create.
FreelandBuck and MINI Living's Urban Cabin project in Los Angeles
The design collaboration with Sam Jacob pays homage to london's traditional geometric facades. built from a reflective surface covered with copper mesh, the cabin mirrors the rich contrasts of its london surroundings. 'the aim is to open up the possibilities of design while also making reference to the world around us,' says jacob.
We hope to see you on Monday night!
We will continue to share and guide you through our sustainable design philosophy. Make sure you're following us on
Instagram,
Facebook
and
Twitter,
or signed up to our
monthly newsletter, to ensure you don't miss a thing.