Problem Solving with Design
An Evening with Arc'teryx & Archiblox
Earlier this month, Bill McCorkell, the director of Archiblox, presented along-side some of the country's best-known brand visionaries & inventive new start-ups pioneering design in their industries. The panel of local makers included Andy Fallshaw, Co-Founder & CEO of Bellroy, Frankie Layton, Founder of The Dirt Company & Dave Budge, Co-Founder of Jaunt Motors.
These amazing brains behind the brands shared their stories, practical advice and secrets to fostering great design for the 2019 & beyond. 'Problem Solving with Design' was hosted by performance outdoor equipment company Arc'teryx who put on a fabulous night full of insightful thinking, beautiful food & art. It was such a pleasure to be part of this event, to speak and network with some very talented people.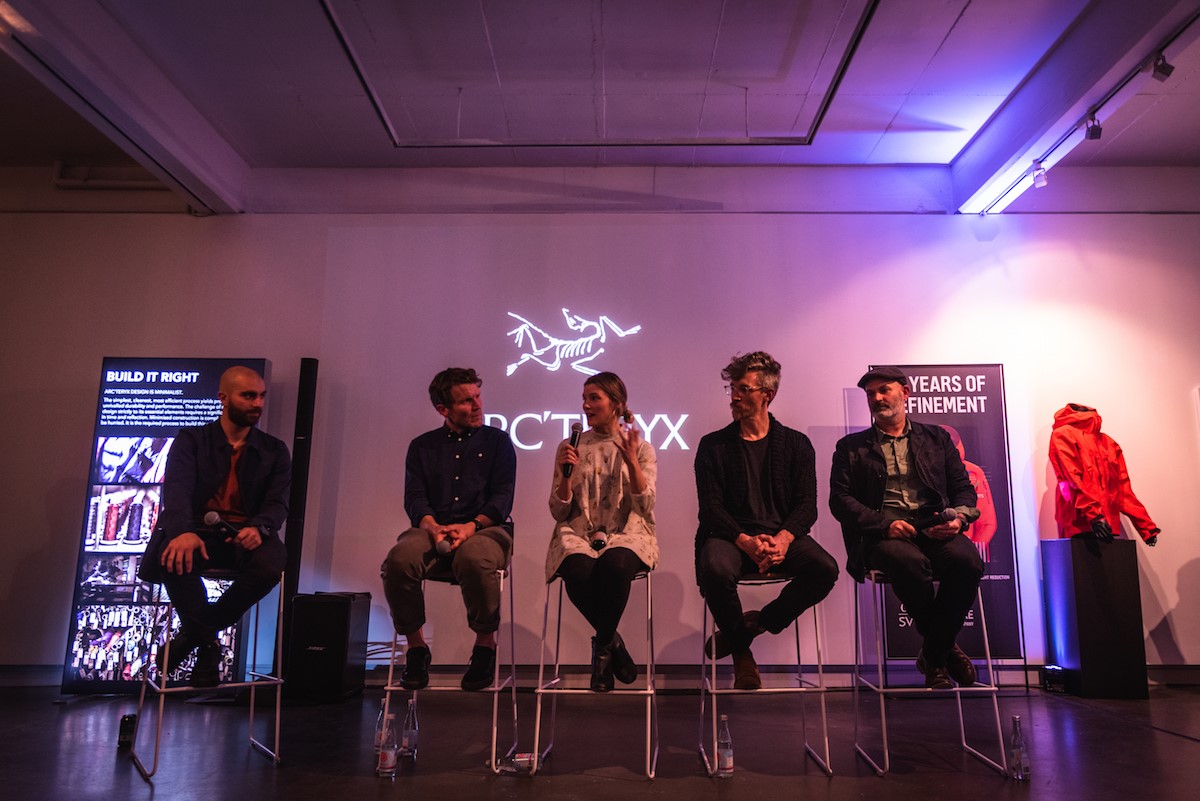 Who is Arc'teryx?
Apart from putting on great events, Arc'teryx is an outdoor apparel brand born from the desire to design the lightest, best performing, and highest quality products for adventures into the wilderness.
"Our design process is connected to the real world, solving problems to create innovative products in a sustainable manner. We refine the crafting process with our own manufacturing facility, building durable products with unrivalled performance. Making active lives better by design."
Bellroy
The perfect combination of form meets function, this accessories company is all about making life easier when it comes to the items we carry with us. Co-founder & CEO Andy Fallshaw, started the company in the early 2000's when the skinny jean trend rose in popularity and oversized, clumsy wallets were not able to fit comfortably in pockets or offered practical solutions to carrying lifes necessities.
Enter Carryology, a online community site built to help Bellroy connect with like-minded people to discuss better and more efficient ways to make wallets, bags, luggage etc better. By creating this forum Bellroy was able to retrieve a wealth of information about the accessories market and develop a brand that gave people what they were looking for – quality, simplicity & functionality.
While on the Arcteryx panel Andy shared his insights into how Bellroy creates a productive and inspiring work culture that fosters amazing design. He said that it was all about aligning brand vision with employees trajectories, ensuring that the paths of the business and it's team marry up. Just like their wallets, for Bellroy it's all about finding the right fit.
Archiblox
For Bill McCorkell, Archiblox has always been a family affair. His passion for smart design in the built environment grew from his childhood surrounded by creative construction minds. His grandfather and brother both builders, and his father an architect and campaigner for sustainable living. When Bill, saw an opportunity in the housing market for superior alternative, he proposed a new solution – modern, modular homes that were not only beautiful, but more cost & time effective, created less waste and were healthier for the residents and the planet.
At the Arcteryx event, when asked about sustainability in design, Bill spoke of it's importance, especially when moving forward into the future. "Sustainability is inherent to everything that we should be doing, from the lawn clippings to the left over pasta, to the way we open and close a window" Bill explains that it is all about having an awareness of our environment and the effects that we have on it. Archiblox believes in better buildings, created mindfully to directly respond to this, by harnessing our natural elements while sustaining them without causing damage; and design is the way in which we can achieve this harmony.
Jaunt Motors
A start up developed to share the experience of exploring our countries pristine and diverse landscapes via the favourite Australian mode of transport – the hardy 4X4 offroad Land Rovers – but with a climate-friendly, electricity-powered motor. Co-founder Dave Budge, wanted people to experience nature & adventure without the smell of fumes, the guilt of polluting, the engine noise but instead have the reliability and accessibility that an SUV provides.
"The kind of vehicles that Australians buy are not luxury sedans, and they're not really even hatchbacks. We're dominated by 4×4 utes and SUVs," says Budge.
From a design perspective Budge says that the boxy, utilitarian shape of the classic 1950s-1970s range rovers are perfect for conversion to electric. There is also a large amount of these vechiles stockpiled around the country, ready to be upcycled as most are in good condition due to their aluminium bodies & our dry climate.
The Dirt Company
This start up is anything but small. With a growing cult following behind her and one big idea founder, Frankie Layton, set out to make a sustainable laundry detergent that produces clean clothes that you can feel good about. By using a simple spreadsheet Frankie noted each way she could make her product better than the competitors – cheaper, cut plastic consumption, less harmful to the environment, was more effective in stain removal and made her washing feel & smell great.
The Dirt Companies design strategy was to develop an unrivalled product and the process to achieve it was all about trial and error and lot's of testing. Frankie was referred by a friend to someone who could put her in touch with a chemist who could take on the challenge and work with Frankie and her team until the product ticked all the boxes, no compromises.
After listening to the Arc'teryx 'Problem Solving with Design' Sessions it was clear that all these brands had something in common. A desire to create more helpful, less wasteful products that are clever in their function and resolve a basic problem – simplify life.
Bill McCorkell is a fourth generation builder and has a BPD and BArch (Hons) degree from Melbourne University. He is passionate about speaking at events and forums where he can share his love and enthusiasm for the environment in both its built and natural form. Bill comes with a wealth of knowledge on energy efficient homes, new technologies and modular design. He is a founding member of the University of Melbourne's Thrive Research Hub and sits on the board of Prefab Australia. Should you be interested to have have Bill involved in an event, please get in touch at hello@archiblox.com.au as we love to meet like-minded people & share ideas.