We are excited to share our Richmond Extension as this months feature project.
Archiblox's 'Richmond Extension' provided a contemporary addition to a beautiful existing Edwardian house in the Melbourne suburb of Richmond. The home-owners, a young family of four, were looking to expand their home with further bedrooms and living spaces, but were also conscious of including appropriate weather insulation, high quality materials and energy efficient appliances throughout the home.
We were very pleased to provide a prefabricated solution for our clients, with the construction of 3 modules that were built in our Laverton facility, then transported and craned onto this narrow site in only a fraction of the time of a regular on-site build. With two children under the age of 5 at the time, this process suited the clients perfectly, as it meant less disruptions and time required away from their home. It was also less intrusive for the neighbouring properties, and eased congestion on the narrow street.
The existing house facade was maintained, along with the two front rooms and hallway. The ground floor modules provide a spacious, open-plan, kitchen, living and dining area, with study nook and large walk-in-pantry built seamlessly into the kitchen joinery. A laundry, powder-room and ensuite were also included on this ground level.
The upstairs module, which includes two bedrooms and a bathroom, is tucked behind the roofline of the existing house, maintaining a discreet profile when viewed from the street.
Perhaps the most stunning part of this home is the beautiful kitchen, which opens out to both the internal and external living areas.
This space is made successful by its thoughtful mix of materials, which combines a palette of dark and neutral colours with natural textures in the wide Oak timber flooring and Carrara marble island bench-top. Storage is abundant in the kitchen and living area, integrated behind seamless 'push-to-open' cabinetry, which also hides the expansive walk-in pantry.
Sliding doors open the kitchen and living up to the outdoor area, allowing an abundance of sunlight to enter these northern living areas. The transition between the spaces makes outdoor entertaining effortless, and provides efficiency in the ability to cool the space in the summer months.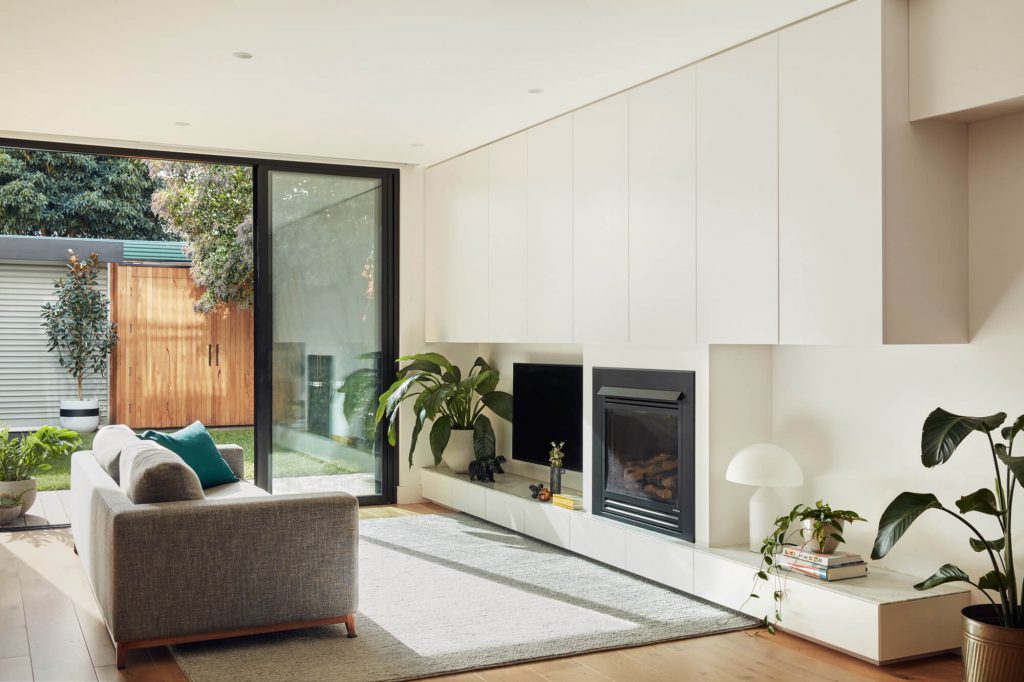 With the children's area kept upstairs, and multiple living spaces downstairs, this home successfully creates a warm and inviting refuge for all members of the family. With a simple, minimalist aesthetic, the house becomes timeless in its design. It can be guaranteed that these spaces will be enjoyed for many years and generations to come.