The Design Files Interview: A Modern & Sustainable Spin On The Aussie Shed
The team at Archiblox have reimagined the Aussie shed, balancing architectural aesthetics with environmental responsibility.
This eco-luxe home at Fish Creek uses clever passive design principles, off-the-grid technology, and inventive pre-fabrication processes in order to touch the coastal land lightly. Sustainable, liveable and super beautiful!
The Fish Creek House by ArchiBlox is an 'an eco-friendly, off-grid haven' that offers a modern (and decidedly more comfortable) take on the corrugated Australian shed! The brief was to create a home that 'respected its habitat and had minimal impact on surrounding wildlife', and to reflect their values of stepping lightly on the land.
What has emerged, is an 'eco-luxe' cabin, that balances aesthetics with environmental responsibility. The architect explains that this project 'encapsulates the future of living ethically, while remaining open-plan and functional.'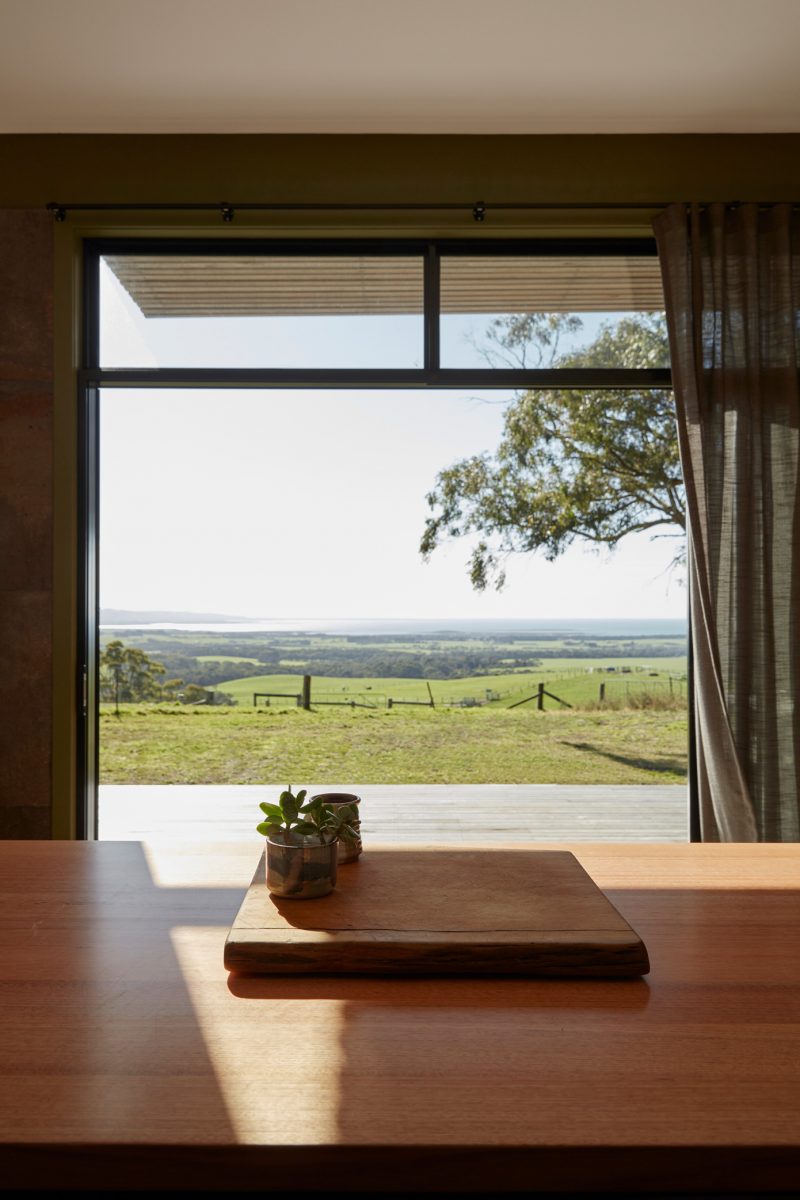 The property is imagined in two zones, entertaining and rest, that are connected via a central entryway. The sleeping area is located on the North-West side for privacy, dreamy views and protection against harsh coastal winds. The living zone opens out with glass sliding doors, to allow for air circulation and connection to the landscape.
Low environmental impact was a priority for this build, and passive heating options include a pergola, window awnings and raking ceilings. Where possible, sustainable and renewable materials have been selected, and the home also boasts solar panels, a wood burner, rainwater collection operation and septic system.
In addition to low-impact materials, the construction of the home was strategically imagined to maximise off-site prefabrication. The ArchiBlox team highlight 'the building was designed and built at our facility ensuring minimal disturbance to eco-systems and the land.' This particularly reflected the values of the owners, whose interest in permaculture inspires them to 'minimise their carbon footprint, and improve their overall well-being.'
The interiors reflect the ethos of both the clients and architects, brought to life with a landscape-inspired Dulux colour palette including tones of Army Fatigues, Natural White, Woodland Grey and Black Ace.' The architects highlight that a good lick of paint was a 'budget friendly, simple solution to enhance this small home's big personality.' Meanwhile, 'simple extravagances' include an outdoor bath fed with rainwater, star gazing skylight and metallic central chimney with bronzed tiles, bringing bold design flair to this 'shed 2.0' !
We love sharing all the new and exciting things happening at Archiblox, so make sure you're following us on Instagram, Facebook and
Twitter, or signed up to our monthly newsletter, to ensure you don't miss a thing.