Image: Aroha Retreat Yoga Session | By Aroha Retreat
Top 8 Eco Retreats to Help You Reset Your Life
Imagine yourself out in the middle of nature, away from it all, just you or with some friends enjoying all that our beautiful planet has to offer. Fresh air, peaceful sounds and nature all around, what could be better? This month at Archiblox we are thinking about rejuvenation & recalibration. How can we reboot from the winter blues and feel great? Time for a holiday. Think eco cabins.
Eco cabins or retreats have come a long way. Not only are the designs simply beautiful and practical in that they offer a place to rest, but they also provide an amazing experience – often one you will never forget. Below are a list of our favourite escapes into the wild.
1. Slow Cabins
Location – Antwerpen, Belgium
The Slow Cabins are the brainchild of entrepreneur Xavier Leclair and are designed as environmentally-friendly 'mystery' retreats whose locations are only revealed after you've booked them.
Each of the tiny homes is a wooden cube packed with eco-features including a solar panelled roof, built-in rainwater collection and filtration systems, as well as dry toilets.
Putting the onus on wellness, interiors of the Slow Cabins have been left raw, with 'healthy' wooden floors and walls, and blonde wooden furniture that channels a Scandi vibe. There's no wifi or tv to ensure a complete digital detox. Insulated glass windows frame views of surrounding fields and woodland, and there's a wood-burning stove to cosy up in front of – and a small deck to unwind on.
2. Krakani Lumi
Location – Tasmania, Australia
Located on the northern edge of the Bay of Fires, this accommodation serves as a two night stop over for a 4 day guided walk through the cultural landscape, from wukalina – Mt William, to larapuna – Eddystone Point. The brief required accommodation and communal facilities for 2 guides and 10 walkers. It is the first walk of its kind in Tasmania that is entirely owned and operated by the Aboriginal Land Council.
The cabins have been designed to minimise impact to native flora and fauna. Individual buildings were constructed in modules and carefully airlifted into place. Throughout, small hollows have been made within the wall cavities to allow occupation by endemic birdlife and other hollow-dependent marsupials.
3. Mini for-4
Location – Bled, Slovenia
The four Mini for-4 wooden cabins are situated in the Slovenian Alpine region in the proximity of beautiful Lake Bled. The clients approached the company Ekokoncept, which specializes in design and production of low-energy wooden prefabricated houses and pavilions, wanting to upgrade the existing camp site with glamping-like accommodations.
The energy efficient wooden construction, made from local spruce wood, is protected from the humid woods in the background with a side bitumen cladding and a back façade covered with larch. The units are almost completely closed off and sheltered from tree sides facing the forest, only to open up with big glazed surfaces to the magnificent views of nature in the front.
It was decided that the positions of the units were to be adapted to the existing terrain, creating a floating feeling from the inside. Also, the for-4 (while minimising the construction time on site) were designed on a principle of a mobile building, with specified dimensions suitable for transportation in one piece. Each unit was made out of two separate volumes, completely furnished in the production.Separate volumes were then transported on the site and positioned into prepared bases and connected on site in less than a day.
4. Horse Stud Accommodation
Location – Geelong, Victoria
Archiblox Horse Stud Accommodation pods, providing two different styles of cottages that create a home away from home for workers tending to the horses at this estate.
Both cottages are connected to a Mess hall located in the middle, easily accessible from the car park area and orientated towards the beautiful olive plantation. The mess hall provides a common space with a double sided fireplace, dividing the large living and dining areas.
5. Aro-Ha Retreat
Location – Glenorchy, Queenstown
Located on new zealand's south island, 'aro hā' is a purpose built, self-sufficient retreat offering its guests access to yoga, hiking, strength training, meditation, therapeutic massage and detoxifying vegetarian cuisine. designed by local practice tennent + brown architects, the timber dwelling provides accommodation for only 32 guests at any one time, encouraging group interaction. providing views across the 21 acre site, an open terrace is oriented to face lake wakatipu.
Providing views across the 21 acre site, an open terrace is oriented to face lake wakatipu through combining ancient traditions associated to the region with modern technologies, the scheme is monitored by a state-of-the-art infrastructure management system, allowing the efficient conversion of sun and water to energy. this off-grid power capability in addition to passive environmental techniques ensures that the retreat has a minimum carbon footprint.
6. Woodhouse Hotel
Location – Guizhou, China
Located in the remote village of Tuanjie, the Woodhouse Hotel is one of the first projects of a new government policy to help ameliorate rural poverty through the introduction of agricultural tourism. Unlike other rural areas, the village of Tuanjie has little traditional architecture to hold on to. Instead, the striking landscapes and pollution-free farmlands are the village's greatest assets. Therefore, our design goal was set to capture the beauty of nature with tranquil forms that harmonize with the surrounding environment.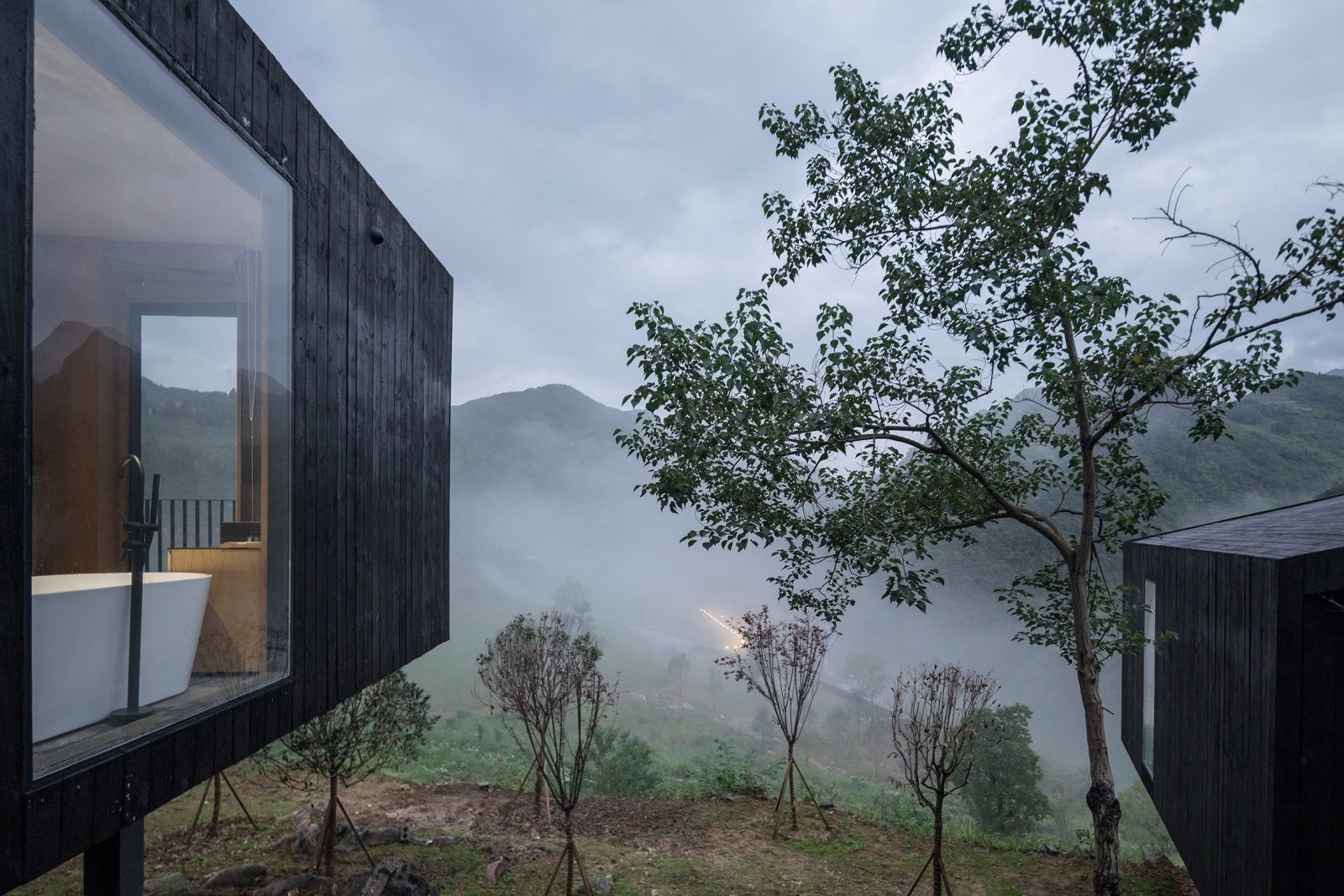 The hotel consists of 10 single-story wooden houses on a hillside that merges into abundant grass and woods. In order to improve construction efficiency and minimize damage to the original rock formations, a combined structural system was adopted for each house using a wood-structured object and an elevated steel platform. The carbonized wood of the facade was manufactured on site with a simple process to reduce cost.
The design of the wood houses aims to harmonize with the landscape and the rustic atmosphere while forming a contrast to the existing village buildings.
7. Eyrie Cabins
Location –Kaiwaka, New Zealand
Eyrie comprises two houses near Kaiwaka, in New Zealands North Island. Each is barely larger than four sheets of plywood. They are made from wood, are off-grid and autonomous, their outsides burnt black. This project is part polemic, part escape.
Designed by Cheshire Architects, 'Eyrie' are two cottages designed to be holiday homes for two different clients.
The two charred cabins reside completely off the grid providing a place for solitude to take in the intense beauty of their natural surroundings.
On the exterior, the two serene retreats appear to be identical, yet the interior reveals something else. With just two large windows and no doors, the structures are designed to be private, yet invite in the daylight and surrounding landscape.
Inside, one of the Eyrie Cottages is lined with glossy black paintwork highlighting the colours of the landscape and features brass detailing. The other, is encased in the warm tones of plywood and features a restrained collection of light timber furniture.
8. Winery Eco Pods
Location – Yarra Valley, Victoria
This chic eco pod series located in the Yarra Valley region is still in early design stages in our studio. This self contained versatile holiday villa is perfect for multiplying to have a range of retreats dotted about a property or for a one off studio in your backyard. The integrity of this design lends itself to multiple applications whether it be in urban, coastal or rural environments.
The layout is all about maximising the outdoor serenity, the bedroom and living zone is situated towards the front where the best of the views can be seen through large glazed doors, which open to a protected deck and fireplace. A small kitchenette and mud room area are located in the centre, and the bathroom complete with freestanding bath, is at the rear. The bathroom & kitchen are also blessed with views, private windows conveniently placed with creative shrouds to ensure guests can lookout without feeling exposed. This design is about enjoying the simple pleasures in life; such as the romance of a wood burning fireplace or a glass of vino at sunrise or sunset on the balcony.
For further inspiration, check out our Current Projects to get more ideas for your next project.
We love sharing all the new and exciting things happening at Archiblox, so make sure you're following us on Instagram, Facebook and Twitter, or signed up to our monthly newsletter, to ensure you don't miss a thing.